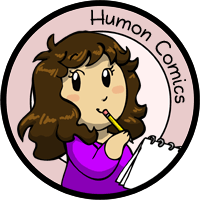 My other comics: Scandinavia and the World, Niels, Manala Next Door

Wolf in Robes
---
I have such a strong love of old timey werewolf stories. They often have a lot of shame associated with them, which is why they also involve religion. Even The Wolfman had a scene where Talbot can't bring himself to enter a church because he feels too dirty.

My fascination with monks mainly comes from the drama of men who are expected to live a pious life but usually have a really hard time doing so, so they lend themselves very well to this sort of werewolf story.
1st October 2017
Tagged in Werewolf Monk

Share Humon Comics:
Latest comic in your News Feed:
We have an awesome newsletter with 3,245 subscribers!
Latest comic news
Merchandise news
and more!
7 Comments:
Copyright © 2009-2020 Humon Comics
Artist's Journal
|
Artist's Twitter
|
contact@humoncomics.com
|
Privacy Policy